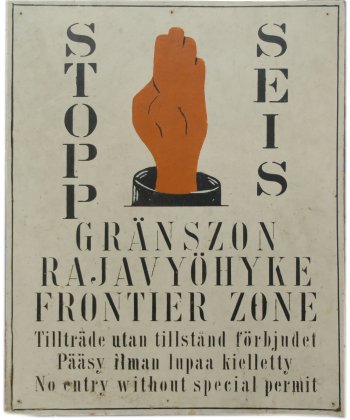 In our gift and souvenir shop we sell local products and Finnish handicraft. Ami Avellan has designed the beuatiful silver jewelry and Karin Heikkilä has made adorable handicraft.

Especially popular is the stop-sign from marinbase-time.
Other Finnish products are sheet iron articles, for example gingerbread cutters, measuring-cups and small milk cans.
Some of the childrens favorites are our cuddly toys, i.e. dogs, foxes, roe deer, otters, bunnies and more.
We also have Estonian glass products, such as necklaces, bird ornaments, bottles and bowls.

All our products are in some way connected to the history of the area, not least the dogs on our shelves. Pets like dogs and cats were left on the Porkkala area when the Soviets left in fall 1955. They were not allowed to take them with them back home. Ask us and we will tell you more!
We also sell postcards and books about the village, the area, local history and other books by local authors.
Pay a visit!