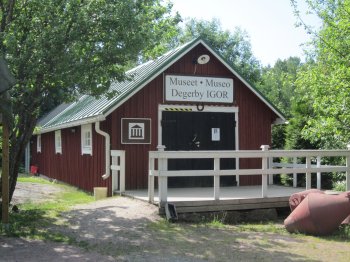 (scroll down for map)
The main theme at the Degerby Igor Museum is the lease period of Porkkala 1944-1956, which was a consequence of the Continuation War between Finland and the Soviet Union. The lease period of Porkkala was a unique epoch in the politic history of Finland. It was also a threat to the Finnish independence. Only now doors are opening and new information is coming to the surface and the interest in this period increases.

Stories told by the civilians living in the Porkkala base 1944-1956?

Why did Vladimir Novikov mix vodka in the soldier's beer?
What happened to the statues of Lenin and Stalin at the Kirkkonummi railway station?
Feelings from the return 1956.
And who was Igor?
We do not have the answers to all the questions we are asked, but we do know now why the Soviets painted houses in blue and why there were so many snakes on the area. The lease period is always our main theme, new stories from the inhabitants of the naval base 1944-1956 keep reaching us. Our authorized guides will be happy to tell you more!
Read more under the topics on the left.

You can also find information about our museum in the Cold War Portal of the Berlin Center for Cold War Studies:
http://www.berlinerkolleg.com/en/profile/degerby-igor-museum
We are working with the exhibitions for the season 2018.

We will soon tell you more about it!
The Lotta's hard work

The Lotta Svärd organization for voluntary women during the war had its own section in Degerby. The Lotta's remember the long, cold winters when lots of woolen clothes were needed. They spent several hours in the observation towers and alarmed when an unknown war plane was approaching.