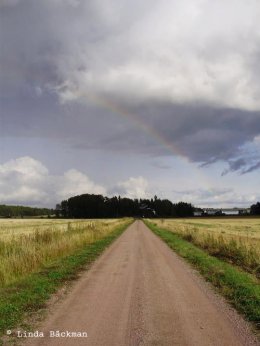 Degerby is a wide area with many different kinds of sights and things to do and see for tourists. Unique for our village is the beautiful nature, well-kept landscapes with fields, wide forests and a long seashore. We can offer our inhabitants and tourists an open-air recreation area, a petpark, a beautiful church, interesting history and much more! Read more under the topics to the left.
By the church we have a delicacy shop and a hairdresser.
The cemetary of Gutsåker in Prålsbacka is a peaceful, quiet and beautiful place by the main road 51 in Degerby.

Torbacka airstrip and flight-club. Contact person for the flight club: Mikko Saarisalo, +358 50 486 0145, mikko.saarisalo(@)gmail.com.

The Torbacka airstrip for ultralight airplanes is also used by paragliders.
The airstrip was approved in 1994, grass strip 360x15 metres, official name EFTO, coordinates 09/27.
If you wish to use the airstrip you must contact the landowner Sam Ekholm +358400 441402
Summer is the season for strawberries, you can buy them in Degerby or pick them yourself. Read more about local products and services here.

Read more about what's coming up in Degerby!
Read about events that have taken place in Degerby.