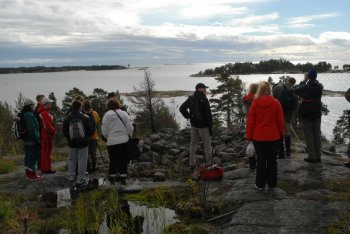 Since 2003 Kopparnäs is an open-air recreation area that anyone can use. The land area is 450 hectares, 67 hectares on islands and a water area of 195 hectares. Kopparnäs is perfect for outdoor life such as hiking, swimming, sunbathing, bird-watching, picking berries and mushroom and even barbeque. But remember, all those who use it are responsible for keeping the recreation area clean and enjoyable.

The nature and wildlife in Kopparnäs is unique. A bird preservation area is situated in the creek of Kopparnäs. In May and June the rare woodlark breeds on the rocks, so it's important to keep dogs on the lead.
The sea view from Rävnäs high over the sea is breathtaking. It also gives an explanation to the many turns in the history of our area.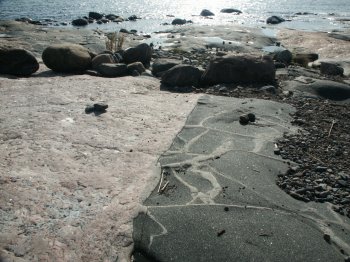 The exceptional cliff formations of Bergudden attract international guests to Kopparnäs. The road to Bergudden is flat and even and is easy of access also for disabled people.
In Kopparnäs you will also find a bird tower and the restaurant Kopparnäsin kestikievari with accomodation in double rooms and a sauna, contact: +358400 701159, Råbergintie 23, 10160 Inkoo.
Read more about the history of Kopparnäs.
The Finnish website of the recreation area.