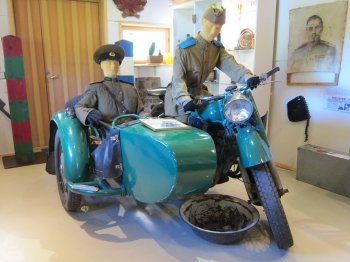 The Degerby Igor Museum opened in 1997. Today the museum consists of two buildings: the old red outhouse that was restored in 2002 and the yellow house, village office Rosenberg that served as the municipal hall of Degerby until the fall of 1944.

Read more about our exhibitions!
The museum is available throughout the year:
In June, July, August 2018: Tuesdays to Saturdays 11-16.
Opening hours September-November 2017 and Februar - May 2018: Saturdays 12-16 and other times all-year-round by agreement! Just call us if you wish to visit us! Please call at least one day in advance!

Groups booked in advance are prioritized. Groups are welcome to book a visit outside the opening hours, even on Sundays. Groups should always book in advance!

Our prices 2017-2018:
During opening hours: 7 € per person, children older than 7 years: 3 €
Groups, minimum 10 persons: 5 € per person plus a guiding fee of 45 €. Groups over 30 persons pay for two guides (45+40=85 €).
Coffee can be arranged if booked in advance. Coffee and a bun 4,00 € per person.
We are happy to arrange a visit for you! Please contact us: This email address is being protected from spambots. You need JavaScript enabled to view it. or call us +358405418526
Welcome!