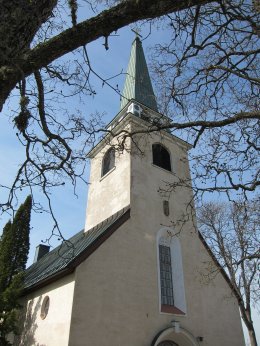 The beautiful church of Degerby was built in 1932. It was built on the exact same spot as the old wooden church from the 18th century. The altarpiece is from the old church.
During the lease period of Porkkala the church was used as a cinema and an assembly room. The restoration costs reached 10 million Finnish mark. Generous contributions and private donations saved the church of Degerby.
The church is open during the summer Mondays-Fridays 10-16 and other times by agreement.

At the organ loft there is a small museum telling about Arvid Wigger, the vicar who initiated the building of this church,inaugurated in 1933, 90 years ago.
Read more about the history of the churches in Degerby here.